Knife Hit mechanics - how to?
Hi guys!
How would you create 'Knife Hit' prototype?

(original gameplay is here: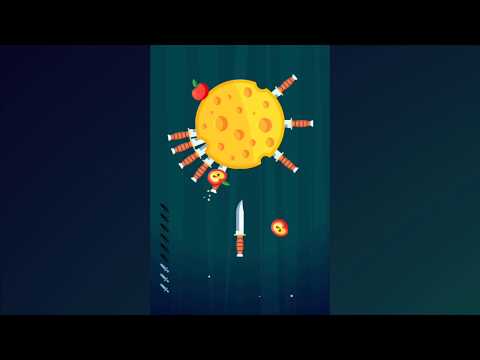 (I've attached my current gproj with PNGs)
How to pin thrown knives to circle and make them rotate with circle?

I'm thinking about creating invisible parent for thrown knives, remove them from original parent and add them to invisible parent, just I'm not sure how to do it properly. And maybe there's another better way?
Currently I'm stuck here:
application:setBackgroundColor

(

0x2f3640

)


centerX

@

240
centerY

@

427


local

 

function

 playSound

(

sound

)

 Sound.new

(

sound

)

:play

(

)

 

end


 


--Add knives:




local

 knivesArr

=

{

}




for

 i

=

1

,

7

 

do


	knivesArr

[

i

]

 

=

 Bitmap.new

(

Texture.new

(

"pics/knife.png"

,

true

)

)


	knivesArr

[

i

]

:setScale

(

0.3

)


	knivesArr

[

i

]

:setAnchorPoint

(

0.5

,

0.5

)


	knivesArr

[

i

]

:setPosition

(

centerX, centerY+

250

)


	stage:addChild

(

knivesArr

[

i

]

)


	knivesArr

[

i

]

:setVisible

(

false

)




end


currentKnifeCount

=

1


knivesArr

[

currentKnifeCount

]

:setVisible

(

true

)


 


--Add circle:




local

 circle 

=

 Bitmap.new

(

Texture.new

(

"pics/circle.png"

,

true

)

)


circle:setScale

(

0.5

)


circle:setAnchorPoint

(

0.5

,

0.5

)


circle:setPosition

(

240

, 

220

)


stage:addChild

(

circle

)


 


--Add apple to circle:




local

 apple 

=

 Bitmap.new

(

Texture.new

(

"pics/apple.png"

,

true

)

)


apple:setScale

(

0.7

)


apple:setAnchorPoint

(

0.5

,

0.5

)


apple:setY

(

-

325

)


circle:addChild

(

apple

)


 


--Rotate circle every frame:




local

 

function

 onEnterFrameFunc

(

)


	circle:setRotation

(

circle:getRotation

(

)

+

1

)




end


stage:addEventListener

(

Event.ENTER_FRAME, onEnterFrameFunc

)


 


--Throw knife on tap:




local

 

function

 throwKnife

(

)


	playSound

(

"sounds/throw.mp3"

)


	

local

 knifeTween

=

GTween.new

(

knivesArr

[

currentKnifeCount

]

, .15, 

{

y 

=

 

410

}

, 

{

delay 

=

 

0

, ease 

=

 easing.linear,
		onComplete 

=

 

function

(

)


		playSound

(

"sounds/hitWood.mp3"

)


		circle:setAlpha

(

1.2

)


		

local

 timerDelayed 

=

 Timer.delayedCall

(

100

, 

function

(

)

 circle:setAlpha

(

1

)

 

end

)


 
		

if

 currentKnifeCount
zip

zip