So from the normal map gideros example, I changed the picture with a normalmapped version of my project main sprite. And I was very impressed by the change!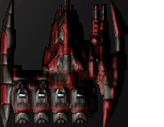 I started to imagine the lights produced by lasers and missile exhausts changing in real time the appearance of all the ships on the battlefield, and I was "Woooow!... that would just give my game such a high professional touch!"
So much wow that I started to worry about 2 things:
- performance : would a phone be able to withstand about 50 moving ships and 50 moving lights?
- time to learn : I know nothing about shaders. How difficult it is to learn? I know how to create a normal map file. But that's it. What I need to learn especially is how to place/move the lights. How hard is that?
Also I didn't try it, but do we still need power of 2 sized textures?