Weird textfield behavior (with layout)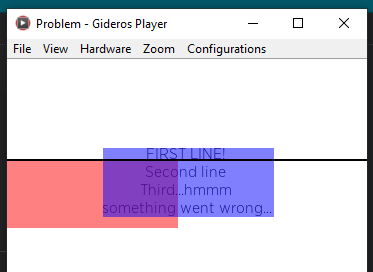 The red rect represents textfields position and size using getPosition() and getSize(). The blue rectangle - getBounds(stage). Black line is just a 100px offset from top.
First, why textfield one line above black line? Second, why getPosition() returns incorrect results? Well, its not realy incorrect because i didnt set position of the textfield, but it looks weird.
What a was expecting? Text at (0, 0) (or in my case in (0, 100)).
app 

@

 application
 


local

 width 

=

 app:getContentWidth

(

)




local

 str 

=

 "FIRST LINE!

\n

Second line

\n

Third...hmmm

\n

something went wrong..."


local

 font 

=

 TTFont.new

(

"font.otf"

, 

15

)




local

 tf 

=

 TextField.new

(

font, str

)


tf:setLayout

(

{

flags

=

FontBase.TLF_CENTER, w 

=

 width

}

)


tf:setY

(

100

)


stage:addChild

(

tf

)


 


local

 x, y 

=

 tf:getPosition

(

)




local

 w, h 

=

 tf:getSize

(

)


 


local

 px1 

=

 Pixel.new

(

0xff0000, 

1

, w, h

)


px1:setAlpha

(

.5

)


px1:setPosition

(

x, y

)


stage:addChild

(

px1

)


 
x,y,w,h 

=

 tf:getBounds

(

stage

)




local

 px2 

=

 Pixel.new

(

0x0000ff, 

1

, w, h

)


px2:setAlpha

(

.5

)


px2:setPosition

(

x, y

)


stage:addChild

(

px2

)


 


--x,y,w,h = tf:getBounds(stage) <- forgot to delete when ctr+c - ctrl+v ¯\_(ツ)_/¯




local

 px3 

=

 Pixel.new

(

0

, 

1

, width, 

2

)


px3:setY

(

100

)


stage:addChild

(

px3

)
Project attached
zip

zip