Font outline does not line up using TLF_CENTERED or TLF_RIGHT
When converting to use outlines, I've discovered that unless I'm using normal TLF_LEFT, the outline text does not line up properly:
Has anyone else ran into this? Am I doing something wrong? I've seen it on all versions since outlining became available. I see it both on my desktop player and phone.
Sample code:
local

 fontO 

=

 TTFont.new

(

"PressStart2P.ttf"

, 

20

,

""

, 

false

,

3

)




local

 font 

=

 TTFont.new

(

"PressStart2P.ttf"

, 

20

,

""

, 

false

)


 


local

 

function

 addText

(

t,x,y, o

)


	

local

 text 

=

 TextField.new

(

fontO, t,

nil

,o

)

 text:setPosition

(

x,y

)


	text:setTextColor

(

0

)


	stage:addChild

(

text

)


 
	text 

=

 TextField.new

(

font, t,

nil

,o

)

 text:setPosition

(

x,y

)


	text:setTextColor

(

0xff0000

)


	stage:addChild

(

text

)




end


 
addText

(

"1"

,

100

,

50

, 

{

flags

=

FontBase.TLF_CENTER

}

)


addText

(

"12345"

,

100

,

150

, 

{

flags

=

FontBase.TLF_CENTER

}

)


 
addText

(

"1"

,

100

,

250

, 

{

flags

=

FontBase.TLF_LEFT

}

)


addText

(

"12345"

,

100

,

350

, 

{

flags

=

FontBase.TLF_LEFT

}

)


 
addText

(

"1"

,

200

,

450

, 

{

flags

=

FontBase.TLF_RIGHT

}

)


addText

(

"12345"

,

200

,

550

, 

{

flags

=

FontBase.TLF_RIGHT

}

)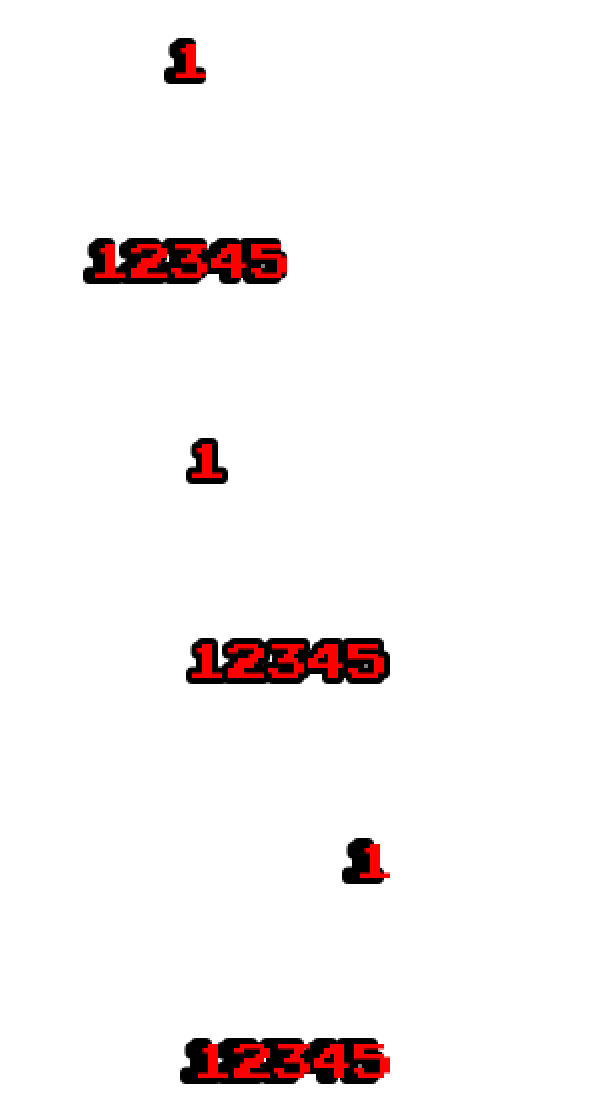 Tagged: